Wondering if that renovation is worth it before putting your home on the market?
Make sure your home updates justify their cost in terms of your home's overall value – a home's value is vital when it comes to putting your house on the market!
Cost vs. Value is a general concept to strike the ideal balance between the cost of an action or item (in this case home improvement/renovation) and its overall added or lost value. For home improvements, some projects require a significant investment and appear to be of high added value. Yet when all factors are considered (demographic, style of living, etc.) these projects are actually of low value.
The Cost vs. Value Report is an annual set of home remodeling estimates, measuring the estimated average cost of a remodel project of homes across the United States. Calculating the average cost of a home improvement is difficult, as a result, we rely on estimates to get as close as possible.
Though this report cannot be 100% accurate for any given home, project, or neighborhood, it gives a pretty good idea as to how much a home renovation project may actually be worth.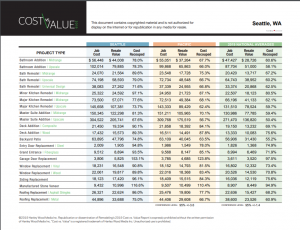 Above are the results for the greater Seattle area, to view results in other cities & states click here.