Summer weather in the Greater Seattle area seems to finally be breaking through! With summer weather comes backyard BBQ's – we want to help make your BBQ's as fun and stress-free as possible. Below are seven of our top stress-free backyard BBQ tips:
Prep food before your guests arrive and have plenty of appetizers (or some simple chips and dip) so they can start chowing down – you do not want any overly hungry guests on your hands!
When food comes off the grill make sure some impressive side dishes come out from the kitchen – think: green salad, pasta salad, baked beans, cornbread, potato salad and everything else you love!
Drinks – make sure to have a cooler stocked with water, beer, etc. and prep another fun summer drink, click here for inspiration!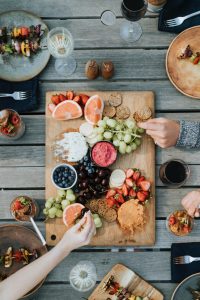 Don't forget to stock up on the simple stuff: cooking fuel, ice, sunscreen, bug spray… maybe even wood for a bonfire?!
Yard games! Think… giant Jenga, corn hole, lawn darts, badminton, bocce!
Get your speakers ready and prep a playlist or appoint a well-versed guest as DJ.
Skip the pre-made dessert and roast S'mores instead!
We hope everyone soaks up the Seattle sun and enjoys their BBQ's this summer!