Summer weather in the Greater Seattle area seems to finally be breaking through! With summer weather comes backyard BBQ's – we want to help make your BBQ's as fun and stress-free as possible. Below are seven of our top stress-free backyard BBQ tips:
Prep food before your guests arrive and have plenty of appetizers (or some simple chips and dip) so they can start chowing down – you do not want any overly hungry guests on your hands!
When food comes off the grill make sure some impressive side dishes come out from the kitchen – think: green salad, pasta salad, baked beans, cornbread, potato salad and everything else you love!
Drinks – make sure to have a cooler stocked with water, beer, etc. and prep another fun summer drink, click here for inspiration!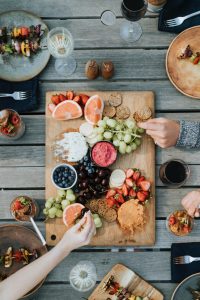 Don't forget to stock up on the simple stuff: cooking fuel, ice, sunscreen, bug spray… maybe even wood for a bonfire?!
Yard games! Think… giant Jenga, corn hole, lawn darts, badminton, bocce!
Get your speakers ready and prep a playlist or appoint a well-versed guest as DJ.
Skip the pre-made dessert and roast S'mores instead!
We hope everyone soaks up the Seattle sun and enjoys their BBQ's this summer!
Posted on July 21, 2019 at 5:11 am
Bella Chaffey
Posted in
Home Tips & Tricks
Tagged

backyard, backyard bbq, barbecue, bbq, bbq tips, bellevue, blog, blog post, chaffey, chaffey real estate, home tips, kirkland, real estate, real estate agent, redmond, seattle, seattle backyard bbq, stress-free bbq, summer, sun, tips, tricks, washington, windermere
Although we in the Eastside and Seattle have had a slow start to our summer weather, the heat is supposed to be picking up and we want to make sure everyone (with or without AC) is able to keep their homes cool without racking up energy bills this summer.
Below is our top 8 tips for keeping your home cool (and energy efficient) this summer:
When the sun is out, or setting, close your blinds! Roughly 30-40 percent of unwanted heat gets into your home through windows.
If your home is cooler than the outside temperature, close the door.
Do your laundry in the early morning, after the sun has set or on a cool day to avoid heating up your home when it is already hot.
Use lights as little as possible, turn them off when they are not in use.
5. Lower the humidity in your home by using a dehumidifier to make your home seem cooler.
6. Clean your fans, dusty blades do not work as well.
7. Open windows at both ends of the house to let air move freely.
8. Grill instead of using your stove/oven (we will have a blog post on BBQ tips out soon!)
Enjoy the warm days ahead!
Posted on July 9, 2019 at 11:29 pm
Bella Chaffey
Posted in
Home Tips & Tricks
Tagged

AC, agent, appliances, bbq, bellevue, blinds, blog, blog post, chaffey real estate, condo, cooling, eastside, energy efficient, fan, grill, home, home cooling, home tips, hot, house, keep home cool, kirkland, laundry, no AC, real estate, redmond, seattle, summer, summer in seattle, sun, tips, windermere, windermere real estate, windermere redmond