Summer weather in the Greater Seattle area seems to finally be breaking through! With summer weather comes backyard BBQ's – we want to help make your BBQ's as fun and stress-free as possible. Below are seven of our top stress-free backyard BBQ tips:
Prep food before your guests arrive and have plenty of appetizers (or some simple chips and dip) so they can start chowing down – you do not want any overly hungry guests on your hands!
When food comes off the grill make sure some impressive side dishes come out from the kitchen – think: green salad, pasta salad, baked beans, cornbread, potato salad and everything else you love!
Drinks – make sure to have a cooler stocked with water, beer, etc. and prep another fun summer drink, click here for inspiration!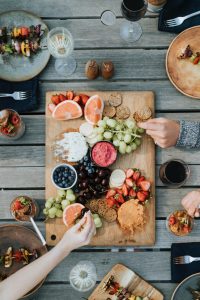 Don't forget to stock up on the simple stuff: cooking fuel, ice, sunscreen, bug spray… maybe even wood for a bonfire?!
Yard games! Think… giant Jenga, corn hole, lawn darts, badminton, bocce!
Get your speakers ready and prep a playlist or appoint a well-versed guest as DJ.
Skip the pre-made dessert and roast S'mores instead!
We hope everyone soaks up the Seattle sun and enjoys their BBQ's this summer!
Posted on July 21, 2019 at 5:11 am
Bella Chaffey
Category:
Home Tips & Tricks
Tagged

backyard, backyard bbq, barbecue, bbq, bbq tips, bellevue, blog, blog post, chaffey, chaffey real estate, home tips, kirkland, real estate, real estate agent, redmond, seattle, seattle backyard bbq, stress-free bbq, summer, sun, tips, tricks, washington, windermere
Looking for some weekend or day trips near home to take this summer? Below are five excellent choices and some reasons why!
1. Leavenworth:
Leavenworth is not only a winter wonderland, but also a fabulous summer destination! The downtown offers fun shops and delicious Bavarian food, while a little further out offers plenty of water-fun, including: river tubing, rafting, kayaking, paddleboarding, and fishing.
However, if you are more of a land person, Leavenworth also  possesses astonishing hiking trails, with 800 miles of forest service hiking trails, and picturesque campsites.
2. Vashon Island:
Being only a 20 minute ferry ride from Seattle, Vashon Island is too close to not visit. July 19-21st is Vashon Island's annual Strawberry Festival including vendors, artist booths, a classic car parade, beer garden, pancake breakfast, grand parade, and street dance. If you can't make it out that weekend, every day in Vashon offers a vibrant downtown filled with shops and restaurants. For the more adventure seekers, Vashon loves bikers and offers the beautiful Vashon-Maury Island Bike Ride.
3. Sequim:
Roughly 65 miles from Seattle, Sequim is full of small-town charm. Known for being the Lavender Capital of North America, Sequim's lavender farms are open for u-pick in the summer months and hosts the Sequim Lavender Weekend on the third weekend in July, July 19-21st this year.
Sequim also boasts pristine waterways, offering kayaking, paddle boarding, boat tours, and fishing.
If the above wasn't enough to make you want to visit Sequim this summer, there is also Hot Air Balloon flights, concerts, biking, birding, and hiking.
4. Winthrop:
A bit further than the rest, Winthrop makes for a great weekend getaway. Winthrop boasts an Old Western feel, stroll the boardwalk to see Western memorabilia and visit the shops. In the summertime, Winthrop is the ideal location for horseback riding, hunting, and fishing, as well as, climbing, hiking, camping, and hot air ballooning. If that is not enough activities for you, Winthrop also offer a handful of water activities, as well as, their outdoor roller skating rink.
5. Coupeville:
Nestled in the middle of Whidbey Island, Coupeville touches both east and west coasts of the island. Coupeville offers beautiful beaches as well as many historical sites, including Ebey's Landing National Historic Reserve. Visit Penn Cove, the Coupeville Wharf, as well as, the main street with authentic Victorian buildings while you are there.
We hope everyone is able to get out and enjoy not only Seattle and the Eastside, but the beauty of other parts of Washington State this summer!
Posted on July 4, 2019 at 2:32 am
Bella Chaffey
Category:
Places to Visit
Tagged

activities, bellevue, camp site, camping, chaffey real estate, coupeville, day trip, drive, eastside, ferry, fishing, fun, hike, hourse back riding, hunting, kayak, kirkland, lavender, leavenworth, paddleboard, real estate, real estate agent, redmond, road trip, seattle, sequim, summer, sun, swim, things to do near seattle, things to do this summer, things to do this summer near seattle, trip, vashon island, washington, water, weekend trip, whidbey island, windermere, winthrop