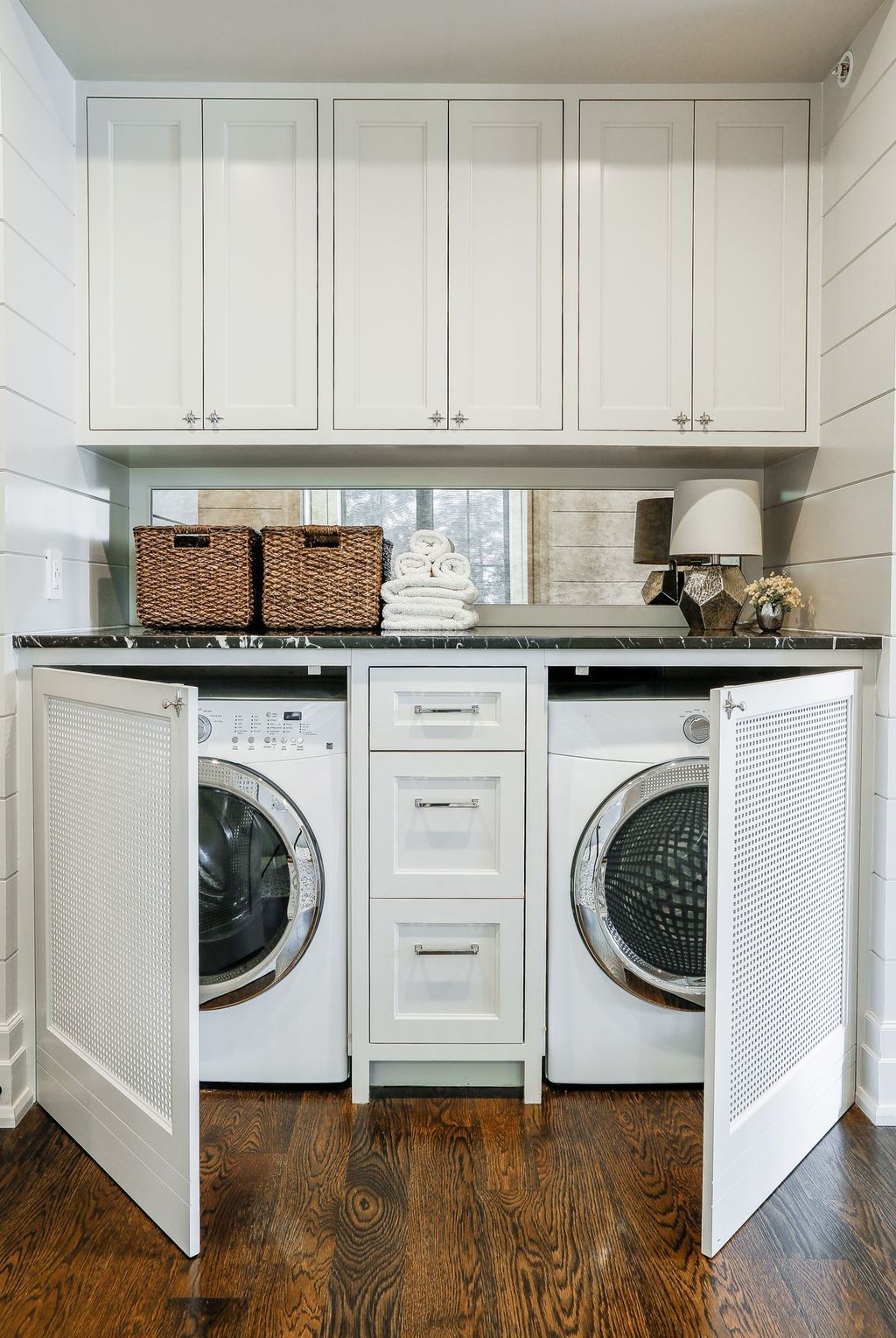 Minimal Space Laundry Room? No Problem!
Does your home not have the space for a standard laundry room? Maybe it is in a closet, within your pantry area, in a bathroom and so on.
Luckily there are SO many things that you can do to make that space usable, efficient, and cute!
Some of our favorite ideas for a limited space laundry 'room' include, keeping it sleek, keeping it behind doors (barn door, curtain, shelving), and make it fun!
Keep it Sleek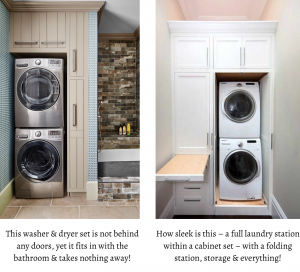 Keep it Behind Doors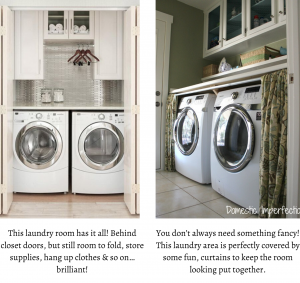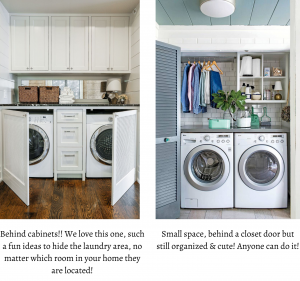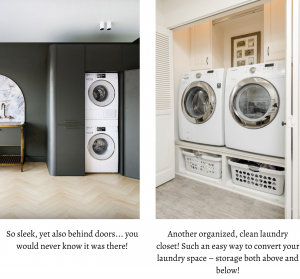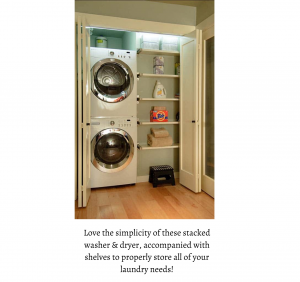 Make it Fun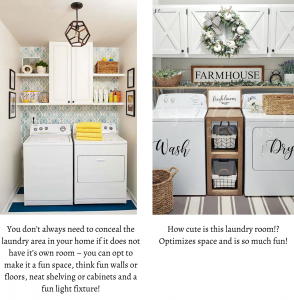 There are so many fun ideas out there! Hopefully some of these will help inspire you to make your small laundry space fun, inviting, neat and/or concealed!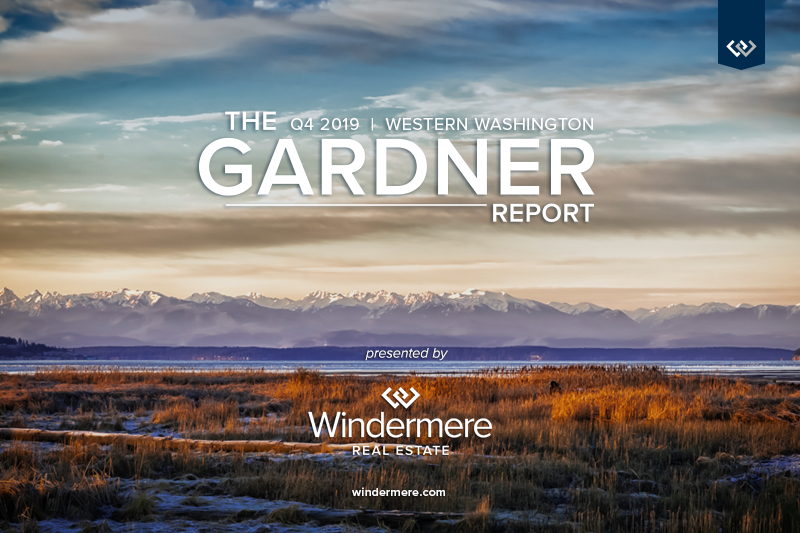 The following analysis of the Western Washington real estate market is provided by Windermere Real Estate Chief Economist, Matthew Gardner. We hope that this information may assist you with making better-informed real estate decisions. For further information about the housing market in your area, please don't hesitate to contact your Windermere agent.
ECONOMIC OVERVIEW
Employment in Washington State continues to soften; it is currently at an annual growth rate of 1.7%. I believe that is a temporary slowdown and we will see the pace of employment growth improve as we move further into the new year. It's clear that businesses are continuing to feel the effects of the trade war with China and this is impacting hiring practices. This is, of course, in addition to the issues that Boeing currently faces regarding the 737 MAX.
In the fourth quarter of 2019 the state unemployment rate was 4.4%, marginally lower than the 4.5% level of a year ago. My most recent economic forecast suggests that statewide job growth in 2020 will rise 2.2%, with a total of 76,300 new jobs created.
HOME SALES
There were 18,322 home sales registered during the final quarter of 2019, representing an impressive increase of 4.7% from the same period in 2018.
Readers may remember that listing activity spiked in the summer of 2018 but could not be sustained, with the average number of listings continuing to fall. Year-over-year, the number of homes for sale in Western Washington dropped 31.7%.
Compared to the fourth quarter of 2018, sales rose in nine counties and dropped in six. The greatest growth was in Whatcom County. San Juan County had significant declines, but this is a very small market which makes it prone to extreme swings.
Pending home sales — a barometer for future closings — dropped 31% between the third and fourth quarters of 2019, suggesting that we may well see a dip in the number of closed sales in the first quarter of 2020.
HOME PRICES
Home price growth in Western Washington spiked during fourth quarter, with average prices 8.3% higher than a year ago. The average sale price in Western Washington was $526,564, 0.7% higher than in the third quarter of 2019.
It's worth noting that above-average price growth is happening in markets some distance from the primary job centers. I strongly feel this is due to affordability issues, which are forcing buyers farther out.
Compared to the same period a year ago, price growth was strongest in San Juan County, where home prices were up 41.7%. Six additional counties also saw double-digit price increases.
Home prices were higher in every county contained in this report. I expect this trend to continue in 2020, but we may see a softening in the pace of growth in some of the more expensive urban areas.
DAYS ON MARKET
The average number of days it took to sell a home dropped four days compared to the third quarter of 2019.
For the second quarter in a row, Thurston County was the tightest market in Western Washington, with homes taking an average of 29 days to sell. In nine counties, the length of time it took to sell a home dropped compared to the same period a year ago. Market time rose in four counties and two were unchanged.
Across the entire region, it took an average of 47 days to sell a home in the fourth quarter. This was up nine days over the third quarter of this year.
Market time remains below the long-term average across the region, a trend that will likely continue until we see more inventory come to market — possibly as we move through the spring.
CONCLUSIONS
This speedometer reflects the state of the region's real estate market using housing inventory, price gains, home sales, interest rates, and larger economic factors.
The housing market ended the year on a high note, with transactions and prices picking up steam. I believe the uncertainty of 2018 (when we saw significant inventory enter the market) has passed and home buyers are back in the market. Unfortunately, buyers' desire for more inventory is not being met and I do not see any significant increase in listing activity on the horizon. As such, I have moved the needle more in favor of home sellers.
ABOUT MATTHEW GARDNER
As Chief Economist for Windermere Real Estate, Matthew Gardner is responsible for analyzing and interpreting economic data and its impact on the real estate market on both a local and national level. Matthew has over 30 years of professional experience both in the U.S. and U.K.
In addition to his day-to-day responsibilities, Matthew sits on the Washington State Governors Council of Economic Advisors; chairs the Board of Trustees at the Washington Center for Real Estate Research at the University of Washington; and is an Advisory Board Member at the Runstad Center for Real Estate Studies at the University of Washington where he also lectures in real estate economics.
Originally posted on the Windermere Blog.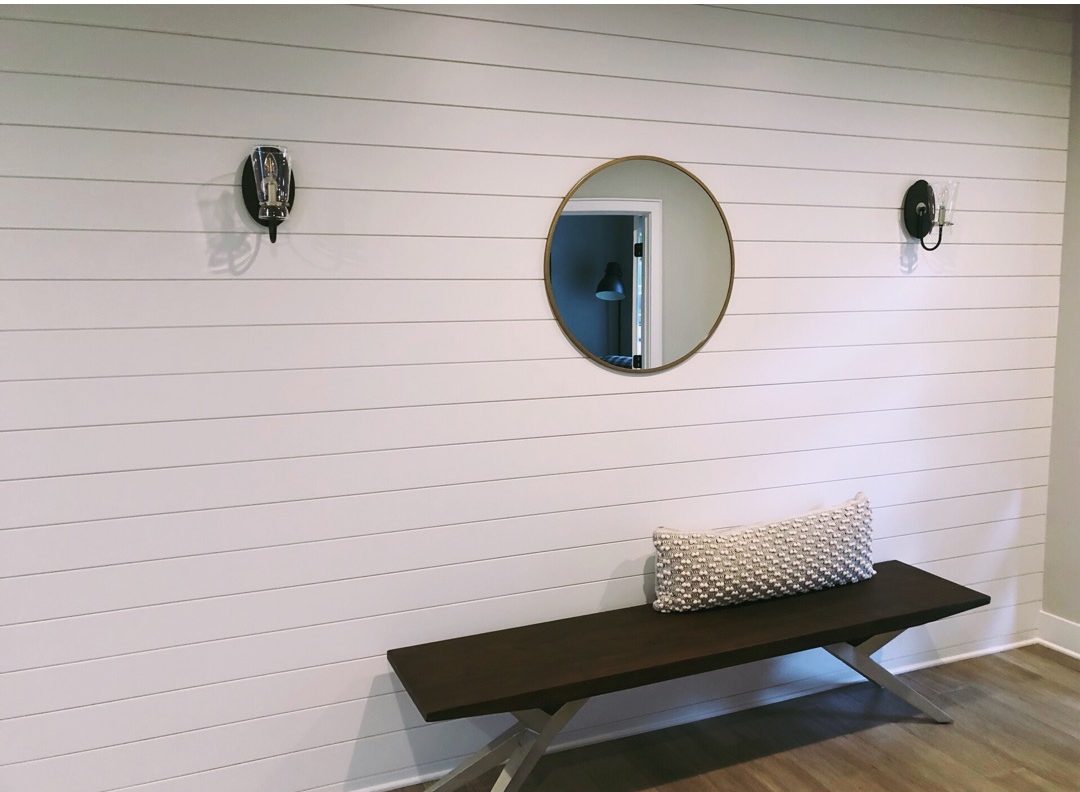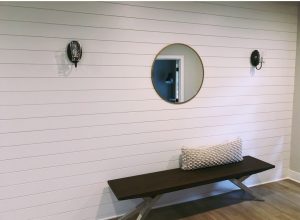 As many home owners and real estate agents know, previewing homes is a vital part of our business. We need to know what is on the market and not just view images of the properties on the MLS but actually tour them.
We try and do a few hectic hours of previewing at least once a week and had the chance to get some previewing in yesterday! We toured around Bridle Trails and Kirkland.
We walked through some beautiful homes, many of them I wished I could move in to! I appreciate all styles of homes, but have a specific soft spot for farm house styled homes – which, lucky for me, were some of the homes we toured yesterday.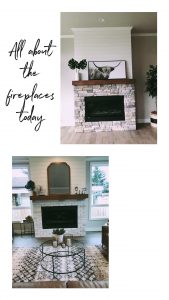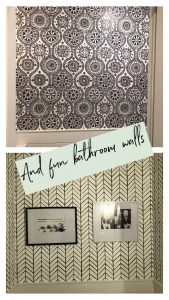 I hope you enjoyed the sneak-peek of some of my favorite details from the homes we previewed! If you are in the market to buy, even if it is a little ways out, get out there and start touring homes to figure out your wants and needs — and for some decorating inspiration!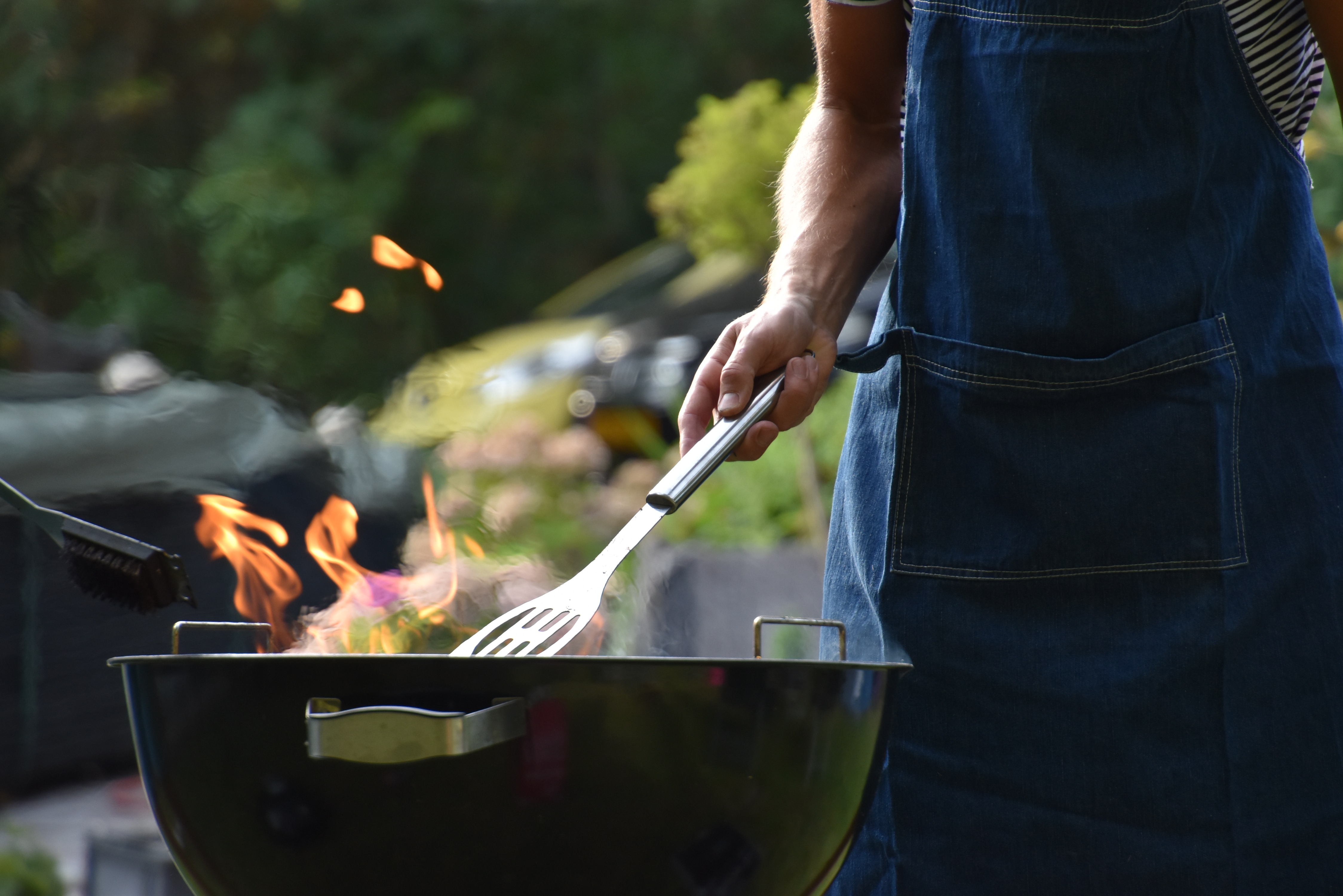 Summer weather in the Greater Seattle area seems to finally be breaking through! With summer weather comes backyard BBQ's – we want to help make your BBQ's as fun and stress-free as possible. Below are seven of our top stress-free backyard BBQ tips:
Prep food before your guests arrive and have plenty of appetizers (or some simple chips and dip) so they can start chowing down – you do not want any overly hungry guests on your hands!
When food comes off the grill make sure some impressive side dishes come out from the kitchen – think: green salad, pasta salad, baked beans, cornbread, potato salad and everything else you love!
Drinks – make sure to have a cooler stocked with water, beer, etc. and prep another fun summer drink, click here for inspiration!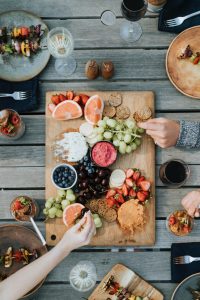 Don't forget to stock up on the simple stuff: cooking fuel, ice, sunscreen, bug spray… maybe even wood for a bonfire?!
Yard games! Think… giant Jenga, corn hole, lawn darts, badminton, bocce!
Get your speakers ready and prep a playlist or appoint a well-versed guest as DJ.
Skip the pre-made dessert and roast S'mores instead!
We hope everyone soaks up the Seattle sun and enjoys their BBQ's this summer!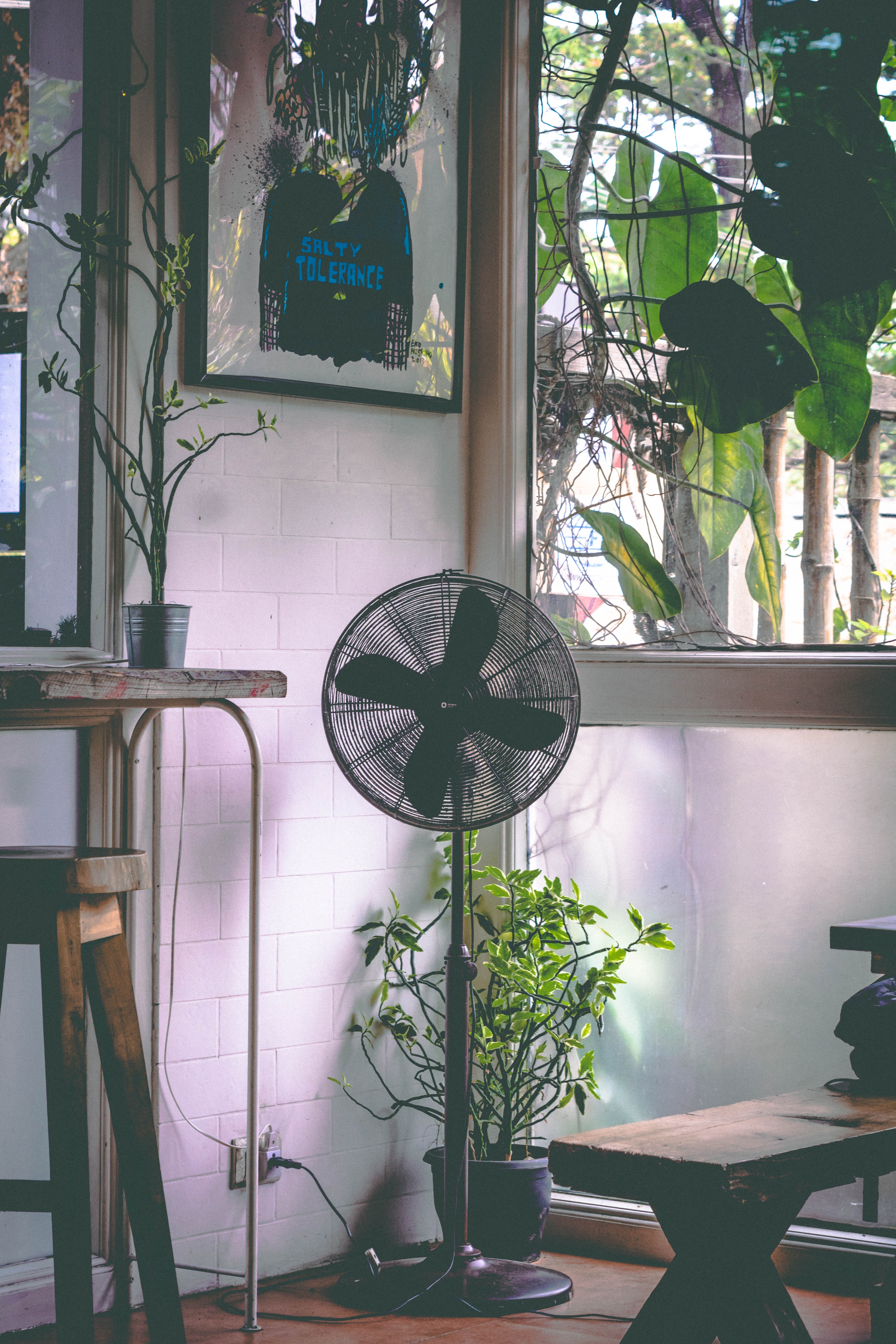 Although we in the Eastside and Seattle have had a slow start to our summer weather, the heat is supposed to be picking up and we want to make sure everyone (with or without AC) is able to keep their homes cool without racking up energy bills this summer.
Below is our top 8 tips for keeping your home cool (and energy efficient) this summer:
When the sun is out, or setting, close your blinds! Roughly 30-40 percent of unwanted heat gets into your home through windows.
If your home is cooler than the outside temperature, close the door.
Do your laundry in the early morning, after the sun has set or on a cool day to avoid heating up your home when it is already hot.
Use lights as little as possible, turn them off when they are not in use.
5. Lower the humidity in your home by using a dehumidifier to make your home seem cooler.
6. Clean your fans, dusty blades do not work as well.
7. Open windows at both ends of the house to let air move freely.
8. Grill instead of using your stove/oven (we will have a blog post on BBQ tips out soon!)
Enjoy the warm days ahead!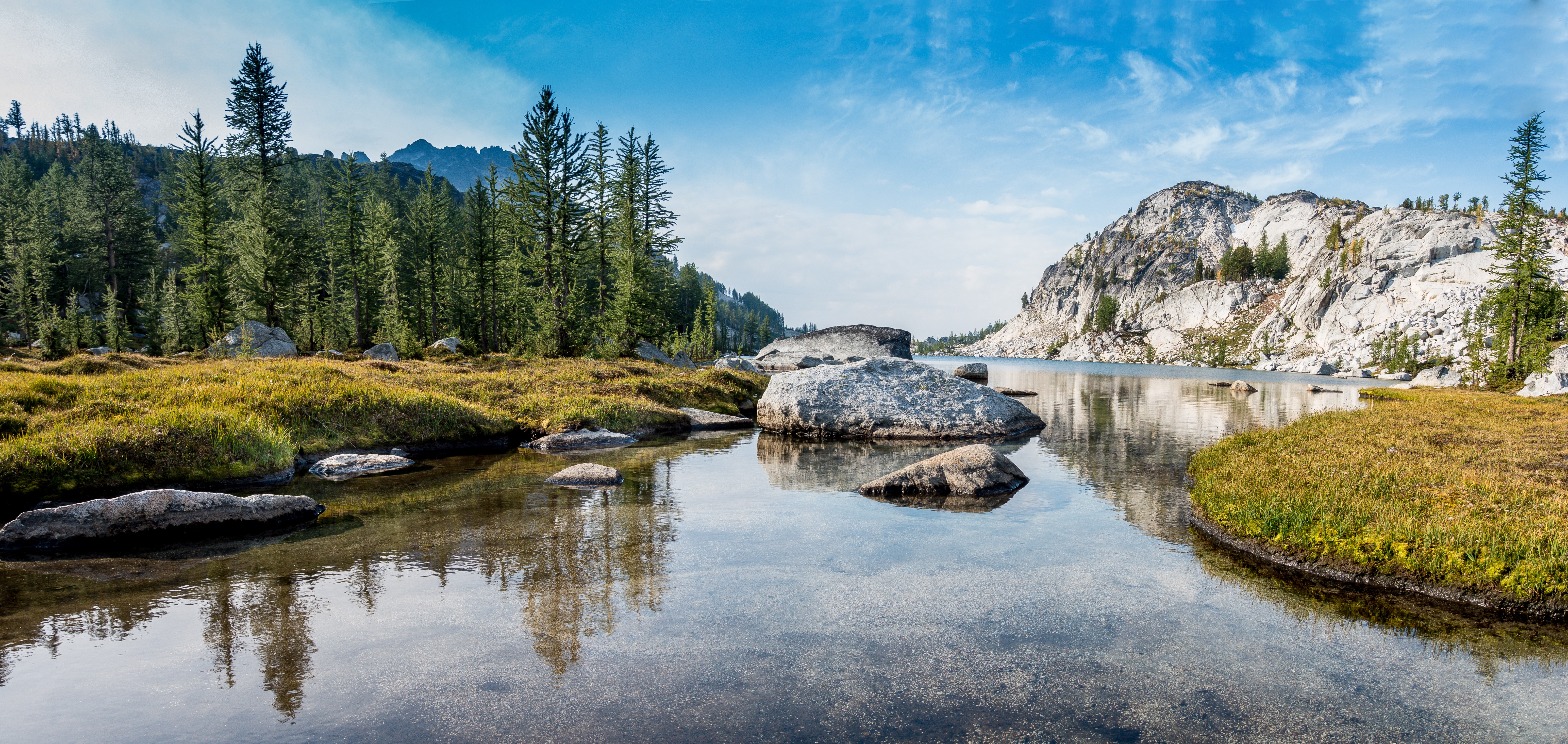 Looking for some weekend or day trips near home to take this summer? Below are five excellent choices and some reasons why!
1. Leavenworth:
Leavenworth is not only a winter wonderland, but also a fabulous summer destination! The downtown offers fun shops and delicious Bavarian food, while a little further out offers plenty of water-fun, including: river tubing, rafting, kayaking, paddleboarding, and fishing.
However, if you are more of a land person, Leavenworth also  possesses astonishing hiking trails, with 800 miles of forest service hiking trails, and picturesque campsites.
2. Vashon Island:
Being only a 20 minute ferry ride from Seattle, Vashon Island is too close to not visit. July 19-21st is Vashon Island's annual Strawberry Festival including vendors, artist booths, a classic car parade, beer garden, pancake breakfast, grand parade, and street dance. If you can't make it out that weekend, every day in Vashon offers a vibrant downtown filled with shops and restaurants. For the more adventure seekers, Vashon loves bikers and offers the beautiful Vashon-Maury Island Bike Ride.
3. Sequim:
Roughly 65 miles from Seattle, Sequim is full of small-town charm. Known for being the Lavender Capital of North America, Sequim's lavender farms are open for u-pick in the summer months and hosts the Sequim Lavender Weekend on the third weekend in July, July 19-21st this year.
Sequim also boasts pristine waterways, offering kayaking, paddle boarding, boat tours, and fishing.
If the above wasn't enough to make you want to visit Sequim this summer, there is also Hot Air Balloon flights, concerts, biking, birding, and hiking.
4. Winthrop:
A bit further than the rest, Winthrop makes for a great weekend getaway. Winthrop boasts an Old Western feel, stroll the boardwalk to see Western memorabilia and visit the shops. In the summertime, Winthrop is the ideal location for horseback riding, hunting, and fishing, as well as, climbing, hiking, camping, and hot air ballooning. If that is not enough activities for you, Winthrop also offer a handful of water activities, as well as, their outdoor roller skating rink.
5. Coupeville:
Nestled in the middle of Whidbey Island, Coupeville touches both east and west coasts of the island. Coupeville offers beautiful beaches as well as many historical sites, including Ebey's Landing National Historic Reserve. Visit Penn Cove, the Coupeville Wharf, as well as, the main street with authentic Victorian buildings while you are there.
We hope everyone is able to get out and enjoy not only Seattle and the Eastside, but the beauty of other parts of Washington State this summer!
Wondering if that renovation is worth it before putting your home on the market?
Make sure your home updates justify their cost in terms of your home's overall value – a home's value is vital when it comes to putting your house on the market!
Cost vs. Value is a general concept to strike the ideal balance between the cost of an action or item (in this case home improvement/renovation) and its overall added or lost value. For home improvements, some projects require a significant investment and appear to be of high added value. Yet when all factors are considered (demographic, style of living, etc.) these projects are actually of low value.
The Cost vs. Value Report is an annual set of home remodeling estimates, measuring the estimated average cost of a remodel project of homes across the United States. Calculating the average cost of a home improvement is difficult, as a result, we rely on estimates to get as close as possible.
Though this report cannot be 100% accurate for any given home, project, or neighborhood, it gives a pretty good idea as to how much a home renovation project may actually be worth.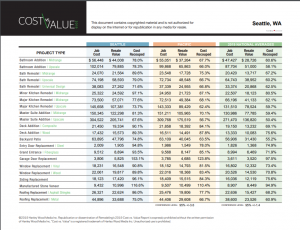 Above are the results for the greater Seattle area, to view results in other cities & states click here.
Summer is (basically) here and other than having fun and enjoying the sun, we want to ensure that your home is happy and healthy. Check out these 8 maintenance tips to ensure a carefree summer and to protect your home.
1. Clean out your gutters and downspouts:
Poor or improper drainage can cause water damage to your home. Clear all debris and check for loose/leaky gutters and ensure downspouts are positioned to drain away from your home's foundation.
2. Check out your roof:
Consider getting your roof inspected and/or visually inspect your roof from the ground, looking for signs of warping, cracking and loose shingles or tiles. Examine around chimneys, skylights and vents.
3. Check out seals around windows and doors:
Cold weather can cause seals around windows and doors to loosen, harden and crack. Inspect these areas for damage and make repairs as needed. This will help reduce summer cooling costs and keep water out of your home.
4. Give your deck a once-over:
This is a summer home maintenance must! Check your deck to see if there are any boards that look like they are rotting and have them replaced. Hammer any nails that are loose. You can also check if your deck needs to be resealed by pouring a small amount of water on it – if the water beads into little puddles, you are good, but if it sinks into the wood, you should get your deck resealed against water.
5. Clean your outside spaces:
Consider pressure washing your driveway and front steps – you can hire someone for this if you do not have the time/equipment.
6. Check detectors:
Check your home's smoke and carbon monoxide detectors to make sure they are working properly.
7. Wash your windows:
If you did not do it in the Spring, now is the time to get your glass clean!
8. Clean your BBQ:
It is BBQ season! Clean your BBQ to prep for summer dinners with these steps:
-For gas grills, turn the heat up to high and let the grill cook with the lid closed for half an hour. Allow the grill to cool and then brush it off with a grill brush. Wipe down the exterior with a damp sponge and a gentle cleanser. Clean the grill's drip pans.
-For charcoal grills, completely empty the grill and wipe out any ashy residue. Then clean it inside and out with hot water, a sponge and liquid dishwashing soap. Let the grill dry completely before using it again.
There you have it – our summer home maintenance tips. The above tips will help you clean up, take care of your home, and enjoy your clean outdoor spaces this summer. Preventative home maintenance can help save money and stress overtime!
Enjoy the long, warm days ahead!